Class win at Rockingham Super Sendoff meeting
On the 24th November 2018 Rockingham hosted it's last ever race meeting, and team directors Chris Clarke and Ben Thompson decided to enter Majestic Motorsport car 421 for a 2018 last racing hurrah. Chris picks up the story below...
We learnt that the oval Rockingham circuit in the UK was to be shut down for good at the end of 2018 - to be bulldozed and turned into a car auction site. However there was to be one last sendoff race weekend there, including a 1hr race with a class for our little Citroen C1 cars.
Having raced there a couple of times in the year, we thought it would be rude not to enter. The weekend did not start well, and on our qualifying out lap I managed to stick it immediately in the gravel, which caused a red flag and made us very unpopular. After being winched off the track, I sheepishly made my way back to the pits and handed over to Ben, who managed to get back out - but our lack of practice and dry setup in a wet session meant we were firmly at the back of the grid. For the race, we made a couple of setup changes to make the car more neutral, and lined up in last place.
At the start I held back to let the usual first corner incidents unfold, and soon established the handling was much better suited to the conditions, settling into a pace. I overtook a few cars over the opening laps. Soon I had picked off enough to lie in 3rd place. These 1hr races have a mandatory pit stop in the middle with a driver change, and around the 25 minute mark the safety car came out and I knew this was our chance of a result. I dived into the pits and handed over to Ben, we timed the stop well and came back out in 2nd place, with the GMP Motorsport car driven by Gary Park (Team Owner) and Michael Galjaardt (Sales and Marketing Manager at Rockingham) right behind us.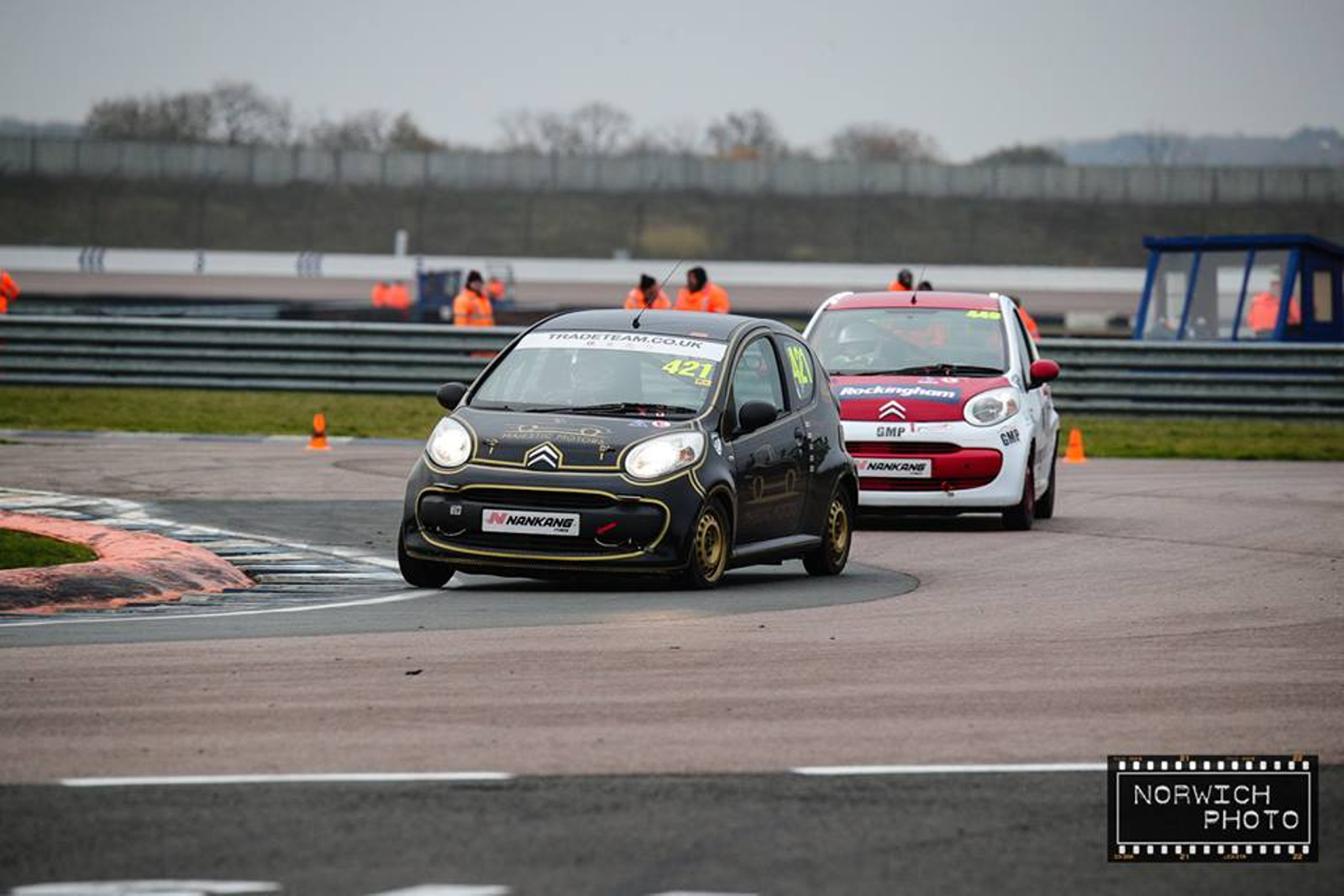 The car in front of Ben was running out of place given it's pace, and soon dispatched - and we were leading! However the 2nd and 3rd place cars where close behind - and and I mean one car length, and lap after lap when he came around the oval I was sure he was going to be "drafted" by what I knew was an experienced driver in the GMP car behind us. Ben defended excellently and held on for the win. When he came back into the pits he didn't even know where he'd finished - such is the chaos of these long races!
To make up for my earlier indiscretions I had also managed a fastest lap of the race!
Anyway I can tell you that the Rockingham staff put on a great party that night with a free bar (they were closing down after all) and the party returned to the truck tent in our pits until about 1am! There were a few sore heads on the Sunday.
To enquire about a C1 race car build, drop us a line at info@majestic-motorsport.co.uk, call us on 01926 658923 or catch us on Facebook.